Advice and techniques to help RELEASE STRESS & ANXIETY during Restricted Times
I will be regularly updating my web site with links to videos that I think may be helpful during the Coronavirus Restricted Lifestyle, we are all currently living. A build up of stress and anxiety affects mind, which affects your spirit and also manifests in your body.
Whilst I cannot provide my therapeutic services to you at the moment, I hope these ideas will be helpful to you in managing your stresses at this challenging time...

STILL CLOSED FOR THE SHORT TERM due to Government Guidelines concerning Coronavirus (COVID-19) but hopefully opening again soon
(29/6/2020) I was hoping to be opening in early July but this date has been now further delayed due to the Government phased re-opening plan for all businesses. I have now been closed since the 23rd March, in order to try and help contain the spread of the Coronavirus (COVID-19) and I understand that we have to try to be cautious of a second big wave of virus infection in our society.
I am so sorry that there are now further delays to me being able to provide necessary therapeutic service to you all. And I know some of you are very keen to book in and be seen as soon as possible. I am pretty sure that I will be allowed to open before the end of July. So I look forward to seeing you and to start sorting out your problems in the very near future!
When I have a definite date, I will update you and start taking bookings...
My advice to all people is to think about and act on your well being, now more than ever, as you need practise to help keep your mind, body and spirit balanced in these uncertain times. Do not worry about those things in life that are beyond your control, try not to keep watching or listening to the news and make time for yourself to exercise and become more mindful...
If you have any questions or concerns then please do not hesitate to contact me on 07946 609429 (also on Whatsapp)
Stay safe and keep calm with nice long, deep, strong breaths...
Andy xx

If you have not heard of, or received Reiki Healing before then please read more details about the benefits...
To perform Distant Healing, I will need you to provide a recent clear face picture of yourself (no hats or sunglasses), which I will use to make a connection to you, to provide the healing. We will arrange a convenient date/time for you to receive your healing, when you will not have any distractions or pressures.
Before each session, I will call you to discuss how you are feeling and what you wish to achieve from the healing. This will take about 5-10 mins usually but will take longer if you are a new client to me, as I will need to ask you more details and get to know you better.
During the session, you should make sure that you:
Set aside sufficient time in a quiet, relaxed room to receive your healing

Maybe light some incense and/or candles to help enhance your relaxation

Turn off all electronic devices (including your mobile phone) for the duration of the healing

Close your eyes and breath slowly and deeply. Focusing your out breath on any points of stress that you feel in your body

Have an open mind and spirit...
The Distant Reiki healing session will last about 30 minutes. During the session you will probably feel warm sensations around the body, especially where I am focusing the energy. Due to the nature of Distant Energy Healing, the Reiki energy might affect you directly either during the session, or several hours after the session.
After the Distant Reiki session, we will have another chat of the phone lasting about 5-10 minutes to discuss your sensations during and after the session.
It usually takes 3 days for all the energy to settle in after the Reiki Healing session. After the session, you could feel some physical and emotional sensations, which can indicate that Reiki energy is working through. If you would like to discuss any of the sensations, you can always get in touch and I will be happy to assist you.
​Individual Distant Reiki Healing session = £8
Package of 4 x Distant Reiki Healing sessions = £24
You can pay via Internet Bank Transfer or Paypal.
If you are currently unemployed then I can offer this service free of charge!
Please contact Andy today for details...

SPECIAL DEAL GIFT VOUCHERS... 20% OFF!
You cannot have therapeutic treatments in person at the moment but why not prepare for when you can, and you (or your friend/family) will need a thorough de-stressing after all this current Social Distancing! If you buy a Gift Voucher for any amount then you will only pay 80% of the Gift amount. For example, if you buy a Gift Voucher for £40 then you will only pay £32!
Have a look at my list of massage and holistic treatments and request the gift voucher to any amount. Then contact Andy, with the name of the person you want to gift and how you would like to pay (Internet Bank Transfer, Paypal). I will then sort the rest for you...
You have one year from the date of issue, to use your Special Gift Voucher :-)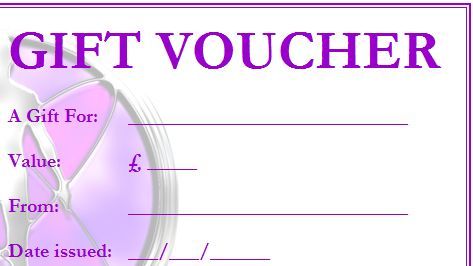 NEVER CARRY CASH? Pay more easily by Internet Bank Transfer!
Some of my clients never carry that much cash and are sometimes in a rush from work, etc, to get to their appointment on time and can find themselves stressed with no way of paying.
An easy solution to this situation is to pay for your treatment via Internet Bank Transfer. All you need initially are my Bank Sort Code and Account Number. Once you have used these to set me up as a Payee on your Internet Banking system, you can simply select my name from your list online to make the payment simply and easily before attending for your appointment.
Please make sure you text me to inform that you are paying via this method before any treatment, so I can ensure that the payment has been made.
PLEASE CONTACT ME to ask for my Bank Sort Code and Account Number if you wish to use this method of payment.

Escape Stress, Enter Tranquility & Keep Toasty...
We all need some time nowadays to escape from the growing challenges and stresses that come into our lives. Time for ourselves, letting our mind slow down, and a calm place to allow us to enter a state of tranquility.
Through talking to you, finding out where you are at, I will then make your massage treatment personal to your needs. To further your comfort and help deepen your relaxation, I now have a lovely new electric warmer blanket installed on the massage table....
Why not give yourself some time out, that you deserve? Contact Andy today...
I am fully VTCT qualified and provide a range of Naturist & Sensual massages, from gentle aromatherapy to deep tissue massage, or a fusion of different styles to suit you. For reviews of my treatments by my clients, please see my Google page.

Naturist full body massages, where both client and masseur are naked, create a more re-assuring sense of equilibrium during the treatment. These massages help liberate an individual, enhance a greater sense of unity with the masseur and further deepen the relaxation and healing effects of the massage.
My name is Andy and I am a genuine, friendly, fit and open-minded individual. I am a fully VTCT qualified, experienced and insured massage therapist. For more details about myself, please see the About Andy section.
I am a keen naturist myself and am comfortable providing this type of massage, which can help intensify the therapeutic quality of touch within the sessions. These massages are for any man that appreciates the firm, masculine but sensitive touch of another man.
I also offer more sensual, intimate massages, which can be performed with the masseur naked or clothed, as you prefer. See below for details.

All treatments can have personalised Aromatherapy essential oils added at a small extra cost of £5 (to cover the cost of essential oils and extra consultation time needed). Please specify when you book your treatment.
***** I also offer a range of other holistic treatments, including Reiki Healing, Hopi Ear Candle Therapy, Lymphatic Drainage and Fire Cupping Therapy. Details of these treatments can be found on my Equilibrium web site.

CURRENT SPECIAL OFFERS (updated March 2020):
LYMPHATIC DETOX... Try my gentle, relaxing treatment to de-stress, detoxify your body and strengthen your immune system.
> £10 OFF Lymphatic Drainage (60mins = £30)
Offer end 30/4/2020. Please quote "LYMPH ENLIVEN" when you make your booking.

FIRE UP + FREE YOURSELF... Try this detoxifying, pain releasing and immune boosting treatment.
> £5 OFF Fire Cupping Therapy (30mins = £20)
>> OR Combine with any exisiting massage for only £15.
Offers end 30/4/2020. Please quote "FIRE STARTER" when you make your booking.

BUY 3 TREATMENTS & GET 4! Pay for a course of 3 treatments before 30/4/2020, and get 1 treatment completely free (saving 25% overall). You have 4 months from the date that you book your 1st treament, to book your 4 treatments.

CANCELLATION POLICY - Please Note:
If you cancel an appointment with less than 12 hours' notice or fail to attend for an appointment then you will be charged 50% of the full session rate, advertised above. This cancellation fee is partial compensation to me, for loss of business, and must be paid as soon as possible after your missed appointment.



There are various special offers and discounts available on the above prices. Please see the standard massage Rates section for details.
For reviews by clients of my massage services, please see my Google entry.
Please try to ensure that you have showered or bathed before arriving for a massage. If you do not have time then free showering facilities are available for you to use before your massage begins (or after the massage).
The massages take place in a private therapy room within the tranquil surroundings of my home in Old Trafford (near Hulme / Whalley Range area of Manchester). The massage services are available, using either unscented or aromatherapy oils, depending on the preference of each individual. See pictures of my massage therapy room.
For further details on my location, how to contact me to ask further questions about my massage services or make a booking, then please visit the Contact Details section.

This treatment is available in 30, 60 or 90 minute sessions - see Rates section for details. The massage provided is done using Swedish Massage techniques and is fairly firm but relaxing. As the masseur is naked, it also gives the opportunity to perform more work intimately on the actual massage couch with the client.
This involves the use of fingers, hands and forearms, with oils, to glide over the skin and apply varying pressures to the underlying muscles and joints. This massage is to promote stress relief, promote general well-being and give you chance to switch off and totally relax. The massage will be personalised depending on the requirements of the individual and paying more attention to any areas of concern. ...Back to top of page


This treatment is available in 60 or 90 minute sessions - see Rates section for details. This is a gentle massage and as the masseur is naked, it also gives the opportunity to perform more work intimately on the actual massage couch with the client.
Aromatherapy is the most holistic of the massages offered, using 100% pure quality essential oils, derived from plants, flowers, leaves, roots and bark, to target many issues of the body, mind and spirit. Each treatment begins with an assessment of where the client is at, in their physical, emotional and spiritual aspects.
Drawing from this, and with an understanding of what smells a client likes, the therapist devises an aromatherapy blend of essential oils. This is then mixed with a carrier oil for gently massaging the body, which transfers the oils into the client's system mainly through absorption into the skin, but also through inhalation.
Aromatherapy is an ancient art, dating back to 2000BC, used to tackle many different issues, including emotional, mood, spiritual, circulation, digestion, muscular aches, joint pains, respiratory, skin, urinary and reproductive issues. Many issues can be tackled by one aromatherapy blend of essential oils.
Aromatherapy is not just about a nice smell, it is about finding personalised, effective blends of essential oils to treat your whole system. Each massage and blend can give quite differing results for clients, depending on where they are at and what essential oils have been used...
More background information on the many benefits of Aromatherapy.

Naturist Deep Tissue Hot Stone Massage
This treatment includes Hot Stones to help melt away your muscle tension! This treatment is available in 30, 60 or 90 minute sessions - see Rates section for details. As the masseur is naked, it also gives the opportunity to perform more work intimately on the actual massage couch with the client.
This massage is performed by starting with a deeply warming Hot Stone Massage to really warm up and relax the muscles, giving a more intense level of relaxation than massage using hands. Neuro-Muscular techniques are then used to help break down muscle abnormalities found through palpating the muscles. This involves the use of fingers, hands, forearms and elbows, with oils, to glide over the skin and apply deeper pressure to the underlying muscles and joints. This massage is more suitable for people with reoccurring aching muscles, those that find themselves aching after physical work or exercise, or people that just prefer a deeper, more effective massage. ...Back to top of page


Naturist Hot Stone Therapy Massage
This treatment is available in 60 or 90 minute sessions - see Rates section for details. As the masseur is naked, it also gives the opportunity to perform more work intimately on the actual massage couch with the client.
This combination of massaging with hot, smooth basalt stones and stone placement on the body helps a person's relaxation reach a deeper level that cannot be achieved with the hand massage. This system of massage, involving oils and hot stones has been used in many different cultures, from ancient times and is now seeing a rise in popularity again!
The massage therapist applies little pressure usually in a hot stone therapy massage and muscle tension seems to melt away more effortlessly. Hot stones stimulate circulation and sedate the nervous system, to add that feeling of complete calm and peace. Cold stones can then also be used to reverse these effects and help flush out toxins from the system and help reinvigorate the body.
More background information on Hot Stone Therapy Massage.
This treatment is available in 30, 60 or 90 minute sessions - see Rates section for details. The Naturist Sensual Body Massage is the most intimate, liberating and deeply relaxing of the massages on offer.
This massage is performed with a mix of longer, more sensual strokes and relaxing Swedish techniques. At various points, more intimate massage is performed on the massage couch with the client, where the masseur uses his whole body to massage, slide, glide and stimulate the client. All of this is interweaved with massage in more intimate places on the body, building up sensual, spiritual energy, ending with a deeply satisfying climax and sense of relief.
This treatment is just available as a 75 minute session - see Rates section for details. The Tantric Lingam (Penis) Massage uses elements of tantra, to make a strong energetic connection, focusing on the penis and radiating around the body.
We will start the massage session by slowly undressing and gently caressing each other, also focusing on harmonising, deepening and slowing down your breath, so that you are more relaxed and grounded.
Then both naked, I will then invite you to lay down on a heated massage table, eyes closed and keeping your breath slow and deep, teasing and caressing your body, using warmed oils. The focus of the massage will be the lingam (penis), scrotum (balls) and perineum (between the anus and scrotum). Using various techniques, I will arouse, play and pleasure that area, raising tantric energy and then start to disperse the energy around the body, revitalising and awakening your body, spirit and mind.
If you wish, we can also include anal and prostate massage as part of the session.
To enjoy the Tantric Lingam Massage is to enjoy the journey that it takes you on, so climaxing (cumming) is not necessary but if you prefer then you can towards the end of the session.
Wherever your tantric journey takes you, you are sure to have a deeply moving and enjoyable experience!
...Back to top of page



Sensual Massage
This treatment is available in 30, 60 or 90 minute sessions - see Rates section for details. The Sensual Body Massage is very similar to the Naturist Sensual Body Massage above but is for those clients that feel more comfortable with the masseur being clothed.
As the masseur is not naked, he is not able to offer the same level of intimate massage on the massage couch. But the results are just as intense and satisfying! ...Back to top of page
.
Page last updated: 29th June, 2020
.